An inventory correction or "de-stocking" is under way in the U.S., as manufacturers and retailers attempt to whittle down inventories of components and goods. That correction is cutting into freight volumes moving by rail and on highways this summer, as shippers pull from existing stocks before placing new orders, sources told JOC.com.
That destocking "does not bode well" for freight volume growth, David G. Ross, managing director of the transportation and logistics research group at Stifel, said in an Aug. 24 note to investors.
"We believe we are going through a de-stock (or right-sizing of inventories) presently," Ross said. "It appears to have begun in the second quarter and we expect it to continue through the third quarter." The buildup of inventories raised red flags for Bob Costello, chief economist at the American Trucking Associations. "I remain concerned in the near term about the high level of inventories throughout the supply chain," Costello said. "This could have a negative impact on truck freight volumes over the next few months."
Even so, total truck tonnage rose 2.8 percent in July, following an 0.4 percent drop in June, buoyed by better retail sales, factory output and housing starts, Costello said in an Aug. 18 statement.
The inventory correction could lower shipper freight spending in August and soften the market for motor carriers and intermodal rail operators, at least until the peak inland shipping season gains speed.
"Since September makes up the bulk of third-quarter volume and earnings, we will resist cutting estimates until we see and hear how next month is tracking," Ross said. Much depends on whether consumers begin spending more of the savings they've enjoyed from lower fuel prices this year, money they've mostly been banking.
Balancing inventory in an uncertain economic climate is a challenge for retailers and businesses across the board. U.S. business inventories rose 3 percent year-over-year in June to $1.8 trillion, climbing 0.8 percent from May, the largest sequential increase since January 2013, according to data released by the U.S. Census Bureau.
The Census data shows U.S. retail sales rose 1 percent year-over-year in June, but inventories were up 4.1 percent.
That robust build-up in stocks helped grow U.S. gross domestic product faster than expected in the first and second quarters. The U.S. Commerce Department revised its initial first quarter GDP projection from an 0.7 percent contraction to 0.2 percent growth from the 2014 fourth quarter. The department is likely to revise its initial second quarter GDP estimate of 2.3 percent growth upward, but the inventory correction could weaken third-quarter GDP.
"The last few years, rising inventory levels were not a big deal, as they kept pace with sales," Ross said, "but the inventory-to-sales ratio has been climbing for the past year, which has been concerning from a freight point of view, as excess inventories lead to a drop in freight demand when they get worked off." According to the U.S. Census Bureau, the total U.S. retail inventory-to-sales ratio, including motor vehicles, climbed from 1.42 in June 2014 to 1.46 this June.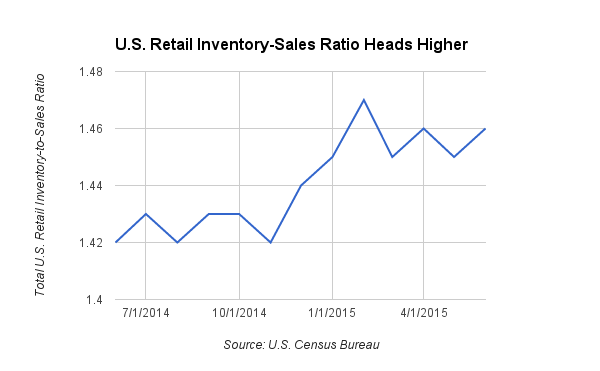 Some of the inventory buildup at U.S. businesses is attributed to "safety stock" ordered during the labor dispute that caused gridlock at U.S. West Coast ports last fall and in the first quarter, ending only in March. The Census Bureau's total retail inventory-to-sales ratio spiked over that period, hitting 1.47 in February.
Target saw inventories rise 9 percent year-over-year in the first quarter, a rate of increase the retailer cut to 4 percent in the second quarter. "While we've made a lot of progress in the second quarter the year-over-year increase is moderated even further so far in August," John Mulligan, the CFO, and as of Sept. 1, COO, of Target said during an earnings conference call this month.
Inventories rose at U.S. retailers in the second quarter, often outpacing sales growth. Home Depot increased inventories by $435 million, after adjusting for currency exchange rates, a slight year-over-year increase. At Lowe's inventories rose by $389 million, or 4.2 percent, to support strong sales of appliances.
Wal-mart Stores kicked the trend, increasing net sales 4.8 percent but limiting inventory growth to 2.2 percent. The company's goal is to grow inventory less than sales, Greg Foran, president and CEO of Walmart U.S., said during the company's earnings conference call. "We are reviewing the end-to-end inventory management process with a special focus on shrinkage and working to close gaps," he said. "Investments are being made in training programs store and asset protection associates as well investments in staffing and high shrink areas of the store. But it will take time to see results."
Some retailers, including Hibbett Sports, are using discounts to eliminate excess inventory, even when it cuts into profit margins. The athletic retailer said markdowns early in the second quarter contributed to a year-over-year 0.5 percentage point drop in gross profits from net sales. "(Hibbett) has since seen positive trends in gross profit as its inventory position has improved," the company said last week. Inventories at the $913 million retailer increased by $11 million from January through Aug. 1., a 4.5 percent gain.
The good news for shippers and their carrier partners is that consumers are spending once again. Retail sales were up 0.6 percent in July from the previous month, and 2.4 percent year-over-year, the U.S. Census Bureau said Aug. 13. Total sales for the May 2015 through July 2015 period were up 2.3 percent. Increased consumer confidence could help retailers bring inventories back in line with sales just as the build up for the end-of-the-year holidays kicks off.
Contact William B. Cassidy at bill.cassidy@ihs.com and follow him on Twitter: @wbcassidy_joc